Slowly spring appears and the first crocuses and daffodils stick their heads through the earth. And now – after carnival and the annual Pasino visit – I can finally decorate for Easter. I was really looking forward to that. Whoohoo! Unfortunately my beloved world map eggs broke last year when I clumsy knocked over the vase with the branches. So I had to make new decorations for the vase and I made cute Easter bunny pendants out of Fimo air. You wanna read more about easter? Click here: https://www.chip.de/news/Ostern-war-noch-nie-so-kompliziert-Was-Sie-und-Ihre-Familie-alles-beachten-muessen_182597966.html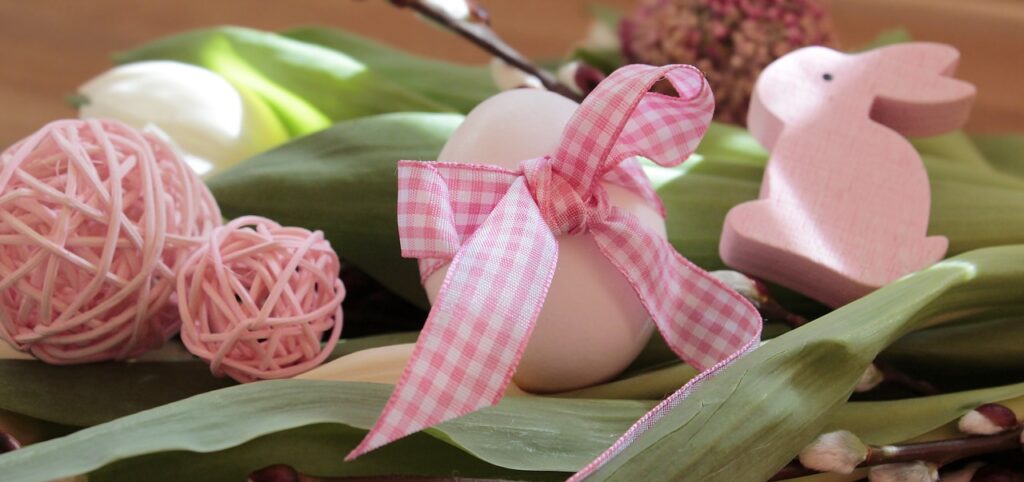 INSTRUCTION: EASTER BUNNY TRAILER
First you prick off an approx. 5 cm wide piece of the block, knead it with clean and lint-free hands and then roll it out approx. 0.5 cm thick. The rest of the Fimo should be packed airtight (for example in a zipper bag).
Then put the pattern on the Fimo and cut it out. If you want to use the rabbits as gift tags, make a hole between the ears with a toothpick. For pendants on a bush, make a hole in one ear.
Then place the rabbits on a plate and cook them in the microwave according to the instructions on the package.
Afterwards you can remove small bumps with sandpaper.
Now paint a stain on a piece of scrap paper with a red crayon, go over it with a cotton swab and dab the paint as cheeks on the rabbits.
Then use a fineliner to paint eyes, nose and whiskers with less pressure.
Finally, thread a string through the rabbits.
You can make a few more bunnies right away, because they are perfect for decorating your home or as a gift tag. Every year in spring I buy a few flowering cherry twigs to hang my Easter decoration on. The cute bunnies look really good in them. In the next few weeks I would also like to paint some new Easter eggs.
MAKRAMEE EASTER EGGS – WINDOW DECORATION FOR EASTER
Finally the very icy temperatures are over and I hope that spring will soon show itself outside. Spring has long since arrived in my apartment, because I simply always have to buy the first tulips in January. But slowly it is high time for some nice Easter decorations! As you know, I'm not a fan of kitsch and that's why I've got some very simple, but very pretty macramé Easter eggs hanging in my kitchen. I love them, because they simply conjure up spring!
Macramé Easter eggs are really quick and easy to make: First you hit with a spoon very carefully against the upper side of the egg (just like you do with Sunday eggs) and remove about 1/3 of the shell.
Then carefully loosen the earth around the crocus and pearl hyacinth bulbs with your fingers and plant them into the eggs.
Now cut 6 x 1 m cotton per egg, twist the threads together at the front, moisten them slightly and push them through the hole of the wooden bead. Push the bead about 10 cm high and then make a knot under the bead.
Now divide the threads into three pairs and knot them together at a distance of 3 cm from the wooden bead. Then knot one thread together with a thread from the neighbouring pair to form a kind of net.
Finally, knot all the threads together at the top end, put an egg in it and attach the Easter eggs to the window frame with a hook. The Easter decoration for the window is ready. Mega easy, right?
What are you making for Easter? I love to make something new every year, but some Easter DIYs become real evergreens. I hang up my world maps Easter eggs every year and also my crocheted Easter bunny egg warmers come back to the table every year. I think my macramé Easter eggs have great potential to become an evergreen. Of course with new flowers next year – of course. If you like my Easter eggs with spring flowers as much as I do, you can quickly make them yourself or note them at Pinterest. Have fun!
You crumble the yeast in half of the lukewarm water and dissolve it in it. Mix both flours with a pinch of salt in a mixing bowl, make a small hollow in the middle and then add the yeast. Leave to rise for 10 minutes.
Meanwhile, place the potatoes in their jackets. Then knead the dough with a dough hook and add so much water until you have a homogeneous, non-sticky yeast dough. Let the dough rise in a warm place covered with a cloth for about 1 hour until it has doubled in volume.
Then wash the leek thoroughly and cut it into fine rings. Season the crème fraîche with pepper, salt and nutmeg. After 20 minutes, drain the potatoes, let them steam briefly and peel them. Then cut them into approx. 0.5 cm thick slices and cut a rabbit out of each slice.
When the dough has doubled in volume, divide it into 4 equal parts and roll each one out oval on a floured work surface. Spread crème fraîche on each oval, leaving 1 cm free at the edges. Place diced ham, leeks and potato rabbit on each flat cake. Then bake the flat cakes for 10 minutes at 220 °C top/bottom heat. Finally, season the pancakes with freshly ground pepper and salt and serve immediately. Yummy!